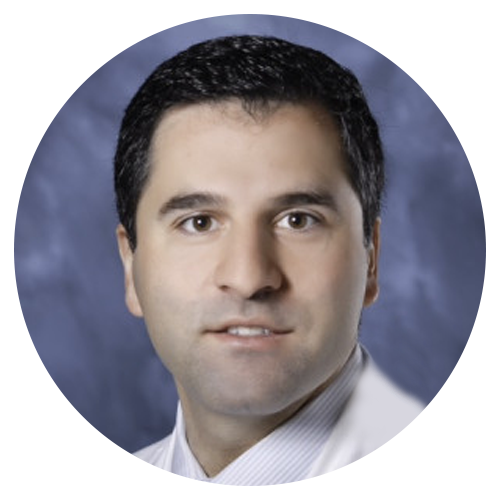 Dr. Amir H. Sadrzadeh Rafie (Amir Rafie) is an Interventional Cardiologist at Glendale Heart Institute Medical Group, Inc. who is board certified in Interventional Cardiology, Cardiovascular Disease, Internal Medicine, Echocardiography, Nuclear Cardiology and Cardiovascular Computed Tomography. He has a long standing interest in all aspects of cardiovascular disease and is dedicated to serving the needs of his patients with a focus on the evaluation and management of preventive cardiology, general cardiology, coronary artery disease, valvular heart disease, structural heart disease, heart failure, hypertension, lipid disorders, rhythm abnormalities and peripheral vascular disease.
Dr. Rafie obtained his medical degree from Tehran University of Medical Sciences. He then pursued his research interest in cardiovascular disease at Stanford University Medical Center where he had the unique and extremely rewarding experience of working in the laboratory with world renowned leaders in the fields of stem cell therapy, exercise stress testing and vascular medicine. He went on to complete his Internal Medicine residency at Yale New Haven Hospital, Yale School of Medicine. After residency, Dr. Rafie completed his Cardiology fellowship at Cedars Sinai Medical Center. He subsequently pursued further specialty training in Interventional Cardiology at the University of California, Los Angeles (UCLA).
In additional to numerous publications in notable peer-reviewed journals and presenting his research at national and international conferences, Dr. Rafie has co-authored a book chapter on transradial approach in structural heart disease.
Dr. Rafie is affiliated with Glendale Adventist Medical Center, Glendale Memorial Hospital and USC Verdugo Hills Hospital. He is fluent in Farsi.
• Structural Heart Disease
• TAVR
• CardioMEMS (Heart Failure)
• PFO Closure
• Coronary Intervention
• Complex Higher-Risk (And Indicated) Patients (CHIP) Angioplasty
• Atherectomy
• Impella and ECMO Support
• Peripheral Angioplasty
• Varicose Vein Treatment (Venous Ablation)
• DVT thrombectomy - IVC filter
• Carotid Stenting
• Rhythm Management
• Pacemaker
• Holter Monitoring
• Exercise Stress Test
• Echocardiography
• Nuclear Stress Test
• Enhanced External Counterpulsation (EECP)